Library Director Marie Spratlin Hasskarl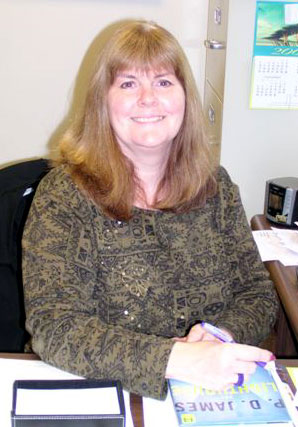 Dear Friends, Neighbors, and Patrons~
Welcome to the Burlington Public Library. We have some changes to share with you. We have a newly redesigned website with a new address: http://www.burlingtonctlibrary.org.
Our emails will now end in @burlingtonctlibrary.org.  In addition, our mailing address is now 34 Library Lane, Burlington, CT 06013. We want to thank the Burlington Community Fund, the "Friends of the Library," and James R. Parker Fund of the Main Street Community Fund for their generosity in funding the redesigned web site.
I want to share our building accomplishments. We created a dedicated room for teens, a special program room for children and teens, and a new Middle School Collection. We also added a family bathroom in the Children's Room. We still have our vaulted ceiling in the Children's Room featuring Karen Rossi's book characters mobile, with her ABC mobile near the computer area.
When we started the expansion plans, we knew we needed more meeting space. In the adult area we have a larger Anne Walluk Community Room that seats 100. We have a Conference Room for 10 to 12. Both meeting rooms have the capability to project from laptops and other devices, as well as access to Wi-Fi.  Nonprofit and community groups may reserve either room once per month, as available.
In addition, we have two two-person rooms for quiet study for a few hours. We also have lots of comfy chairs, tables, and carrels for studying. Come winter, we have a lovely converted propane fireplace to sit by.
Across from our beautiful Circulation Desk we have our new materials. We offer new fiction, nonfiction, large print and DVDs in that space. We love the sunny and welcoming colors in the circulation area.
The Burlington Room has been enlarged and relocated. In honor of our recently retired local history specialist Ann Mazeau, who served the community for 21 years, we will now refer to the room as the Ann E. Mazeau Burlington Room.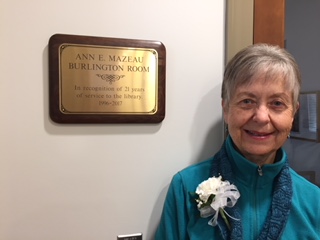 I want to thank the Connecticut State Library for the million dollar grant, the townspeople for approving the 2.1 million dollar bond, and the "Friends of the Library" for providing nearly $90,000 from fundraising over the years. The website was created by Abi Cushman of Brown Bear Creative. I want to give a special shout out to the whole staff for their hard work, patience, and creativity. They are the best!
We appreciate everyone's generosity and community spirit. We look forward to seeing you in the library!