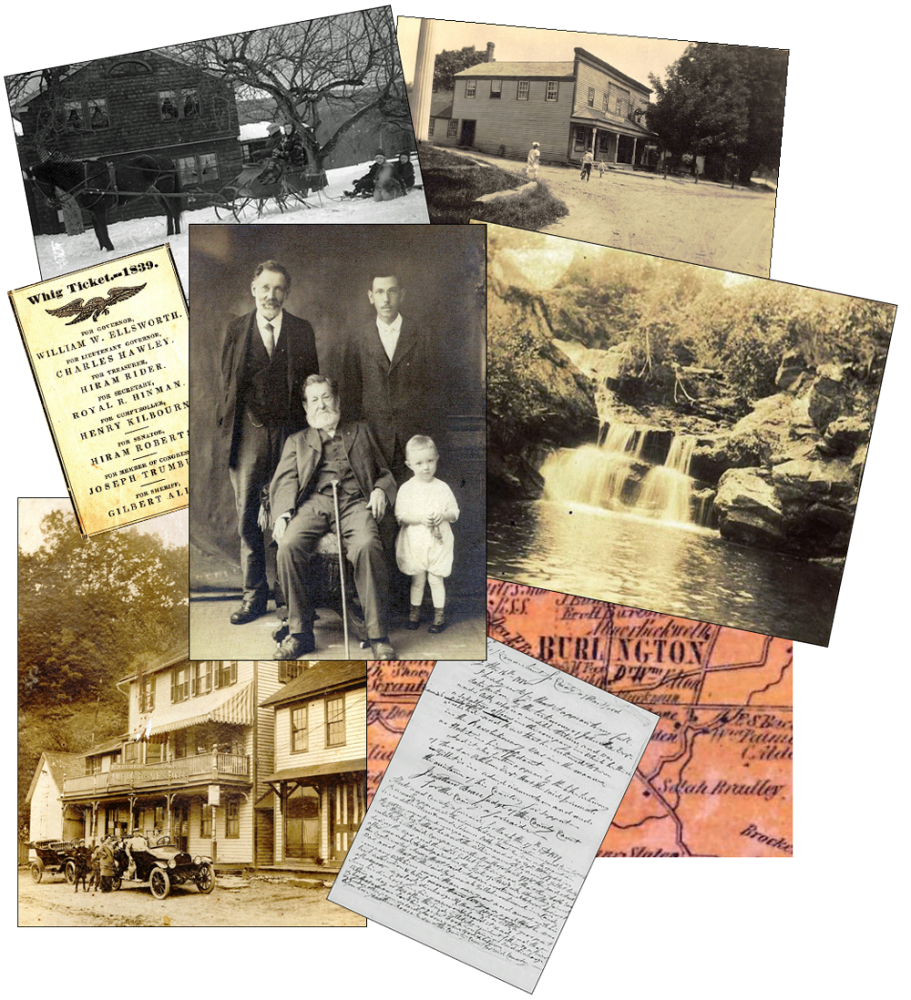 The local history collection at the Burlington Public Library includes books, clippings, family genealogies, photographs, maps, diaries, postcards, newspapers, and other print materials, including many compilations assembled by town historian Leonard Alderman.
This unique collection supports our mission to collect, preserve, and store information relating to the history of Burlington and its residents and to make it available to the public. Because of the nature of these materials, items in the Ann Mazeau Burlington Room do not circulate, and the collection is only available when staffed. Digitizing and cataloging of the collection is ongoing, but the collection is not available online.
The Ann Mazeau Burlington Room is open by appointment. If you would like to visit the Ann Mazeau Burlington Room, or to request information, please contact Scott Norton at snorton@burlingtonctlibrary.org or call 860.673.3331.
---
Online Exhibit
Flood Friday: Burlington Remembers the Flood of 1955
---
Local History Resources
Burlington History
Visit the Town of Burlington's website for a history of the town.
Burlington Historical Society
Visit the "Our History" section for brief historical sketches about the town, the Elton Tavern, and the Center Schoolhouse.
researchIT CT
Free online resources—a service of the Connecticut State Library. Use your library card number to access:
Selected resources from ancestry.com, including the Hale Collection of Cemetery Inscriptions, WWI-era Military Census and Military Questionnaires, selected church and probate records, and more.
The Hartford Courant (1764 – 1922) through ProQuest Historical Newspapers
HeritageQuest Online, which includes U.S. Census records and other valuable resources for family history research.
Connecticut Digital Archive
A program of the University of Connecticut Libraries in collaboration with the Connecticut State Library, the CTDA preserves and makes accessible digital resources from museums, libraries, historical societies, and cultural organizations throughout Connecticut. Try a basic search for "Burlington" to see materials related to local history.
Links to National Register of Historic Places sites in Burlington:
---
The History of the Burlington Public Library
Enjoy a timeline of the history of our library curated by Local History Specialist, Scott Norton.
Donate to the Ann Mazeau Burlington Local History Room
Do you or members of your family have diaries, letters, identified photographs, ephemera (programs, ticket stubs, menus, flyers, etc.), or other materials relating to the history of Burlington and its residents?
Contact Scott Norton at  snorton@burlingtonctlibrary.org or 860-673-3331 to discuss a possible loan or donation. Loans allow us to copy materials for our research files, with the original materials being returned to you. Items that are offered and accepted for donation are stored in archival-quality folders or storage boxes, so that they will be preserved for future generations.
Due to storage limitations, we are not able to accept donations of
non-print materials. If you have objects or artifacts that you would like to donate, contact the Burlington Historical Society at collections@burlington-history.org.
Monetary donations are always welcome. All funding for archival supplies and the purchase of new books for the Ann Mazeau Burlington Room comes from the Burlington Library Association. You can make online donations through the Burlington Library Association.