Library Director Marie Spratlin Hasskarl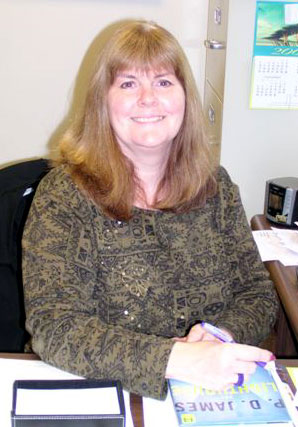 From the desk of Marie Spratlin Hasskarl, Library Director
Dear Friends, Neighbors, and Patrons~
Our Summer Reading Program this year is "Imagine Your Story."  Wow, are we having a summer.  We have closed the library to the general public, the staff has been working behind the scenes buying new materials, creating virtual programs for our adults, children and teens, as well as working on Curbside Pickup.  The circulating materials have been quarantined for seven days.  We would not have imagined that this would be the summer of 2020.  We also had a tropical storm Isaias that hit us, and Connecticut, in general, harder than we expected.
The good news is that we have been fortunate to hire new staff members to fill vacancies.  I have asked them all to share something about them.  So here it is:
5 things about our new staff:
Kaitlin Checovetes used to be one of our Library Assistants and just recently was promoted to Circulation Supervisor.  She has embraced her new position and loves pulling books for holds, shelving and getting to work in the various departments.
1) I have worked in public libraries for 12 years. (5 of those years at the Burlington Public Library!)
2) I like to read cozy mysteries.
3) I love to crochet and knit and have been doing both for over 15 years.
4) I love doing anything art related like drawing or photography.
5) I love cats!
Scott Norton is our part-time Local History Specialist who happens to have history with the town.).  While he is not doing in person meetings he can help via email (snorton@burlingtonctlibrary.org) or phone (860. 673. 333  x 207) to leave a message.
1.I live in Colebrook now, but lived in Burlington before moving here. Look for me in the Burlington Volunteer Fire Department 50th anniversary commemorative book.  I am listed in Station 2.
2.I am retired from being an Air Traffic Controller (29 years), an officer in the Connecticut Air National Guard (32 years), and teaching middle school (8 years), but I have long loved history, which makes my position as the Local History Specialist an amazing capstone to my careers.
3.I also love genealogy research; recently I broke through a major "genealogy wall" and found a link taking me back to early Roman Empire times.
4. I have a master's degree in history from CCSU.  My wife recommends my thesis if you are having problems getting to sleep.  I think first generation Connecticut Puritans, and their views on, Democracy are pretty interesting.  It is available online at the CCSU library, email me and I will send you the link, whether you are interested or need sleeping material!
5. I love libraries and books especially!   To me the paper ones are best.  You get to use all your senses:  smell the paper, feel the binding, hear the pages flip, and see the words of the story.  Oh, yeah, there is also the fifth one, taste.  I guess that is the hot or iced tea (season depending) that I am sipping as I read!
April Jones, our Children's Services staff, will be doing programming, and collection development. We look forward to her creative ideas.
1.I went to the same school from kindergarten right through twelfth grade. Elementary downstairs; junior high and high school upstairs. My graduating class had 38 students in it!
2.I love being in nature — hiking, canoeing, listening to the waves, watching for bats after sunset, searching for beautiful stones… When I need to get quiet or get my creative juices flowing, I go outside.
3.I am passionate about making individuals with special needs and their families and caregivers feel welcome, valued and included at the library (and everywhere).
4.I love going out for ice cream.
5.I think getting a kid matched up with a book that speaks to them is one of the best feelings on Earth.
Victoria Kiszka is our new Teen Librarian who will be working part-time with our Teens and Tweens. She has already thought up of new programs for our tweens and teens.
1. I have 2 sisters that are both at least 15 years older than me.
2. My 3 favorite movies are (in order) The Lion King (I can quote the entire movie), The Princess Bride, and John Carpenter's The Thing.
3. I was in the military (USMC).
4. My favorite type of food is Asian cuisine because it's delicious and also I'm allergic to dairy (most Asian cuisine isn't made with dairy).
5. I currently have 17 tattoos.
Jordan Asselin was one of our Junior Library Assistants who was quietly efficient; ready to shelve, process the new materials or anything that needed to be done.  Now she has been promoted to one of our two Librarian Assistants.
1.When I'm not at the library, I'm usually working one of two other jobs as both a barber and hairstylist.
2. Because of #1, my hair color changes all the time!
3. Fantasy is one of my favorite genres of anything – books, movies, you name it. I've been playing Dungeons & Dragons since I was 14!
4. I am constantly in search of the perfect granola recipe.
5. I am obsessed with house plants, and currently care for more than 30!
Kristi Searle is our new Jr. Library Assistant. In addition to shelving and processing materials, Kristi also helps out at the Circulation Desk.
I am a Midwest girl! I was born and raised in Illinois. After college I spent 10 years in Indiana prior to relocating to Connecticut. I have happily lived in Burlington for 14 years with my husband and two children.

Reading is one of my favorite things to do! On average I read over 50 books per year and have logged close to 500 books on Goodreads.

I met my best friends when I was 5 years old! Though we are spread out all over the country, we are still close, text and talk regularly, and vacation together every other year.

I am NOT a sports person! My sport I.Q. is zero; I do not watch or follow any professional sports teams nor have I played any sports (though surprisingly I am an exceptional rollerblader and ice skater.) The only athletic events you will find me watching are those my children are playing in and "watching" is really just a ruse; I'm really there to chat with my friends!

I made my first scrapbook in 1982 and have since put together close to 80 scrapbooks, photo albums and Shutterfly photo books. Both of my children have a photo book for every grade starting with Kindergarten. Their Junior and Freshman year books are in the works!