Library Director Marie Spratlin Hasskarl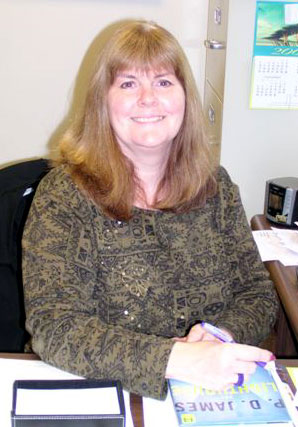 Dear Friends, Neighbors, and Patrons~
Happy 2019 to all! We are looking forward to the new year and to discovering new books to read.
As 2019 begins, I am waiting as patiently as possible to read the newest Louise Penny book, Kingdom of the Blind. In the meantime, I recently discovered the author Paul Doiron. His books feature the main character, Mike Bowditch, a Maine game warden.
For those of you who enjoy listening to audio books, I recommend The Book Thief by Marcus Zusak. Fans of Zusak will be excited to know that he has a new book out, Bridge of Clay which I look forward to either reading, or listening to, soon.
I always have a few books on my coffee table just waiting to be cracked open! My favorite reads are mysteries – especially ones from authors C.J. Box, Alan Bradley, Lee Child, Ann Cleeves and Michael Connelley (just to name a few!).
Below is a list of books that I'd like to share with you from the staff and me. We put together a list of some of our favorite titles from 2018.
Next time you visit us in the library, share with us some of your favorite recent reads.
Happy Reading!
Kaitlin's Picks
You Don't Own Me by Mary Higgins Clark
Raspberry Danish Murder by Joanne Fluke
Wendy's Picks
Summer at Little Beach Street Bakery by Jenny Colgan
The Bookshop on the Corner by Jenny Colgan
Two Steps Forward by Graeme Simsion and Anne Buist
Marie's Picks
Miss Kopp Just Won't Quit by Amy Stewart
The Dark Angel (Ruth Galloway Mysteries, Book 10) by Elly Griffiths
Me Before You by JoJo Moyes
After You by JoJo Moyes
Jodi's Picks
The Last Mrs. Parrish by Liv Constantine
All Your Perfects by Colleen Hoover
The Wife Between Us by Greer Hendricks and Sarah Pekkanen
Little Fires Everywhere by Celeste Ng
The Woman in the Window by A.J. Finn
Emily's Picks
The Muse by Jesse Burton
The Cruel Prince by Holly Black
Sara's Picks
Dumplin' by Julie Murphy
Fatal Throne: The Wives of Henry VIII Tell All by M.T. Anderson and Candace Fleming
The Ghost of Christmas Past by Rhys Bowen
Amanda's Picks
The Woman in Cabin 10 by Ruth Ware
The Couple Next Door by Shari Lapena
A Stranger in the House by Shari Lapena